How do I change my notification settings?
You can change your notification settings so that you receive a notification instantly, or to receive a summary of your notifications. You can vary these settings for account notifications, email, SMS and form notifications, event reminders and more. To do this, select your name on the toolbar and select 'Notification Settings'. This will open a list of all the variables that you will receive a notification for, select whether you would like to receive an instant email or a summary email for each, and click save. These changes will be made instantly.
On your computer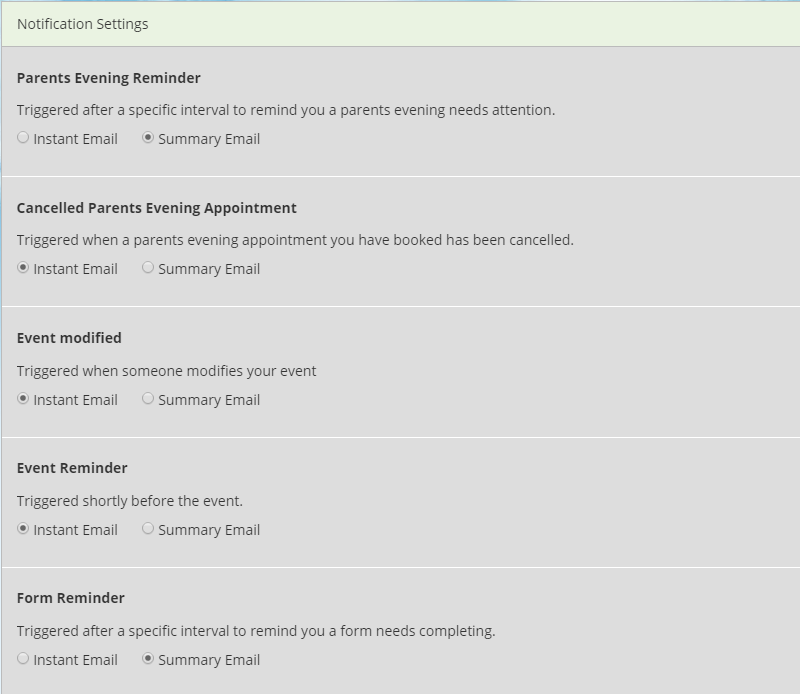 On the mobile App
On the Android App, scroll down in the main menu and select Notification Settings.
(Click on the screenshots to view them in full size) 
On the iOS App, at the footer of your main menu, select Settings > Notification Settings.
(Click on the screenshots to view them in full size) 
Permalink
What is the difference between an Instant Email and a Summary Email?
An instant email will be sent to you as a notification as soon as the school sends you a message. A summary email will be sent daily and will show you all the notifications your school has sent you that day.
The default settings for notifications have been designed so that you receive the important notifications instantly, and for things that aren't quite so urgent, you receive a summary. However, parents can edit this as they wish. Click here to find out how to do this.
Permalink
If I am using the App, how can I stop receiving notifications?
Currently you are unable to stop receiving notifications completely – however in our next update we plan to make it possible for parents to decide whether they want to switch these notifications on or off. For now, we would advise those using the App to change the majority of their notification settings to "Summary" so that you don't receive an in-app notification as well as a notification email.
Permalink