App update - 29th April 2019
New menu layout: Connections, Email Preferences, Change Password and Delete Account are now under a new submenu within Settings
Account deletion: You can delete your account within the App; go to Settings > Delete Account
Permalink
Outlook/Hotmail Spam - 19th March 2019
We are aware of an issue with Outlook and Hotmail inboxes incorrectly classifying our emails as spam, meaning parents may be unaware of emails they are receiving from ParentMail. We have made contact with the provider and we are treating this as a high priority.
In the meantime, we highly recommend all users download the ParentMail App to ensure you are receiving messages, or, you can visit your spam/junk folder within your email account, and unmark the message as junk/spam/malicious.
We will update you as soon as this issue has been resolved, and apologise for any inconvenience this may cause.
Permalink
Android App update - 2nd July 2018
Enhancements – 
 A 'Select all' button has been added for the email, SMS and Online Forms folders, allowing the user to easily mark all items as read/unread with just one action
Parents' Evening Manager – A 'Show on Map' button has been added, which utilises the organisation's post code
 An 'Unread' folder has been implemented, displaying all unread items in one place
The 'Message of the Day' has been replaced by an 'Announcement' feature, which offers a 'Hide' function
Payments App –
The 'Add to Basket' and 'Pay Now' button are truncated to improve the functionality when processing payments (Samsung Galaxy 6S Edge, HTC One and Motorola G5)
A fix has been implemented ensuring any 'Donations' added by the user are added to the total amount, and not to individual quantities
Previously, when you selected an option for a payment item with options, when part paying the other options were still available to select. This is now fixed.
When choosing to pay in instalments, the process is now easier and improved
Orders that are partly paid will now display in the 'Overdue' section when the due date has passed
Deleting saved cards now displays in real time, instead of requiring a refresh to update
The 'To Pay' and 'Shop' sections now refresh once a purchase has been made
Other fixes –
When downloading a file attachment, the file will now open in an appropriate application if available on the device
When the app is upgraded, a shortcut will be added to the device home screen to open the app
Reading an item using 'Edit' within the 'Unread' folder now automatically removes it from the 'Unread' list
Notifications are now working on Android 8
When entering or setting the pin to access the app, the numbers are no longer visible
Pop out menus now automatically close when selecting 'back'
Permalink
System Update – Due Wednesday 12th December (8pm)
Please note: We will require Users to accept Terms and Conditions before accessing ParentMail for the first time following this release, due to requirements from GDPR. This will be visible from the login screen after the release goes live and will affect staff and parent users.
Permalink
System Update - 28/04/2017
Parents can now delete any saved debit/credit cards from their account. Please note, cards can only be deleted through the web version, not through the mobile app.  
Permalink
Payments Update - 09/11/2016
Bug Fixes
Previously, if there was a delay between ParentMail and the Payment Gateway, users would see a spinning wheel until the confirmation was made. To improve the user experience and avoid duplicate payments being made, the transaction will now be confirmed instantly and users will receive an email payment receipt once the Payment Gateway has confirmed that the payment has been made successfully.
The maximum payment cart size has been reduced from 100 items to 60 items to improve speed of response.
Previously, parents with accents in their name were unable to process card payments, this has now been fixed.
Permalink
iOS App Update - 17/05/2016
New Features
– View the app version number on the login screen.
Bug Fixes:
– Fixed an issue preventing the selection of payment card expiry dates
– Fixed an issue causing the app to close when trying to view a form offline.
Permalink
iOS App Update - 09/05/2016
New menu:
The new menu is accessed using the menu button in the top left corner of the the screen or by swiping from the left side of the screen to the right.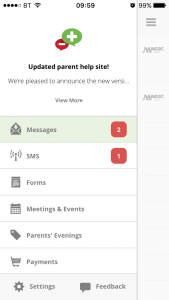 Support for larger screens:
The app will now resize on the device screen using the extra space available. (iPhone 6, iPhone 6+, iPad Mini, iPad, iPad Pro )
TouchID:
Authenticating with TouchID will non longer present the pin entry page behind the TouchID prompt.
If the device is unlocked using TouchID and the app is opened within 1 minute you will no longer be prompted for TouchID to access the app. (only avaliable on devices running iOS9 and greater)
Permalink
Android App Update - 19/04/2016
If your school is using +Pay on PMX, with Cashless or Registers enabled, you can now top up dinner money accounts in the payments section of the App.
Permalink
iOS Update – 23/03/2016
New Features:
If your school is using +Pay on PMX, with Cashless or Registers enabled, you can now topup dinner money accounts in the payments section of the App.
Bug Fixes:
We have fixed an error in the Email, SMS, Starred, Archived lists that would show the incorrect item or close the App after using the Archive button.
Known Issues:
We are aware that some unread item number badges are incorrect, this will be fixed soon.
Permalink
App Updates - 07/12/2015
Parents can now make online payments through the App, which means they can pay for items such as school trips, uniform, tickets for events and more using their debit card, credit card or using PayCash.
Other updates:
The Menu and Login screens have been updated.
We have added a "Remember Me" option which securely saves your login details.
The design for tablet has been updated.
Permalink