SMS Registration
Registering your ParentMail account on your phone can be done in minutes!
Step 1 – Receiving your registration text
Once your school have sent you a registration text, click on the link in the text to register your account.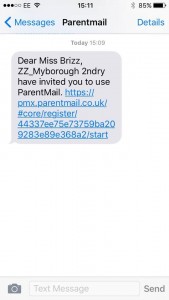 You will be taken to a screen which will ask you to choose if you want to register for ParentMail OR if you already have a PMX account, to simply manage your connections and connect to your new school.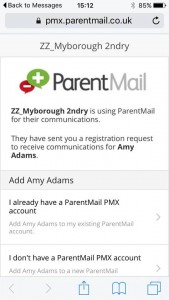 I don't have a ParentMail PMX account
It is likely that you will not have already registered for PMX – if that is the case, select the option "I don't have a ParentMail account".
(If you do have a PMX ParentMail account, select "I already have a ParentMail PMX account" and follow the steps to manage your connections and connect to your new school.)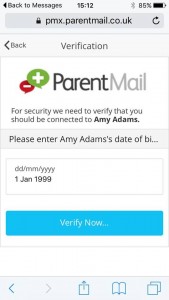 You will then be asked to enter a date of birth – make sure you are entering the correct date of birth for the child stated. If when you select 'Verify Now' you receive an error message, you will need to contact your school as this will be because they hold the wrong DOB information for your child.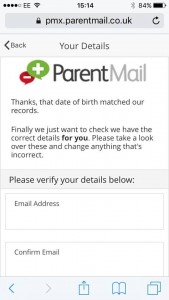 You will then need to check through your personal details – you can change these by typing in the boxes and overwriting any information that is stored.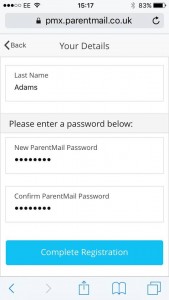 Create a password and enter it (twice, to ensure there's no spelling mistakes!) then click 'Complete Registration'.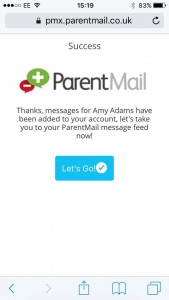 Success! Messages for your child/ren at this school will now be sent to your ParentMail feed. You can now select "Let's Go" to go to your ParentMail feed.
Have you downloaded the ParentMail App?
Once you've registered, we recommend you download the App onto your Android or iPhone device.


Our App for Android and iOS users is now being used by more than 500,000 parents, with feedback that it's now easier than ever to pick up school messages instantly! Our App is the only App that will bring together information from multiple schools and clubs and allow parents to read and respond from one account – which means school messages won't get lost in a busy email inbox. Download now for free!