How do I download the App?
The App is available for Android 4.4 devices and above and Apple iOS 8 and above devices.
To download the App, simply visit the App store on your phone, and search "ParentMail" or click on the buttons below.
Please note, you must be registered to use the ParentMail App – you can register on a browser from the email or text registration invitation you have been sent.
In order to download the PMX App you will need iOS 7.0 or higher.
iOS 7 is only available on 4s onwards. (4s, 5, 5s, 5c, 6 & 6+) not compatible with (3G, 3GS)
iPad – second generation onwards. Including mini will work.
iPod touch – fifth generation onwards will work.
iPhone 4 can have iOS 7 however it will be incredibly slow.
Permalink
I have downloaded the App, but I can't log in?
The ParentMail App is only available for those using the latest version of ParentMail – PMX. If your school are using PMX, please make sure you are using the correct email address and password to log in. To check, try logging in on a desktop computer and checking that you are using the right credentials.
Please note: you will need to be registered in order to use the App.
Permalink
Why does my attachment not download?
You need to ensure you have an internet connection whilst downloading an attachment. If you are using an Android device, you must ensure the App has the storage permission enabled. To check this, go to Settings > Apps > ParentMail > Permissions > Storage. (This sequence may vary on Samsung devices)
Permalink
Why can't I open my attachment?
Your school can send you attachments in various different types and formats. PDF's and Word documents in particular can be sent in many different formats. If you find your PDF or Word reading App can not open your attachment, please try Polaris Office or Google PDF reader. If this still does not work, please contact your school and let them know that you are unable to open the attachment in the format they have sent it.
Permalink
The text in my attachment is too small, how can I zoom in?
Your school can send you attachments in various different formats – some of which may be difficult to view on a phone screen. To avoid this, we would advise you download the free Polaris office App onto your phone – this will format the document so that you can view it easily, and allow you to zoom in and out to view text, should you need to.
Permalink
How do I enable or disable the Pin?
iPhone
To disable the Pin parents can use the "Opt-Out" switch when first being asked to create one on the create pin page or once in the App on the Pin settings page in the settings section.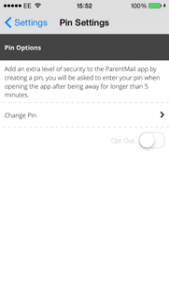 If you forget your pin you can tap the green "Forgotten Pin" text to reset it.
Android 
On the Android App on the "Set Pin" page there is a "Enabled / Disabled" switch in the top right hand corner.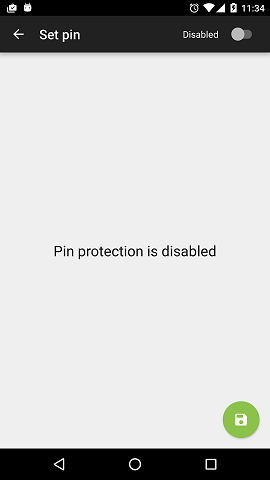 Permalink
How do I turn off my notifications on my iOS device?
To turn off or change notifications, go to Settings > Notifications and select ParentMail. You can also sort your alerts by most recent, order them manually, or group them based on the App.
For more information on notifications, please click here to read more on the Apple support page.
Permalink
Why am I not receiving notifications on my Android device?
You will need to be logged into the App to receive notifications. If you turn off your device, or log out, you must log in again before you can receive notifications. This is to help secure any sensitive information.
If you are logged in, but not receiving any notifications, please check in Settings > App > ParentMail > Notifications that 'Block All' is not enabled.
Permalink
How do I turn off my notifications on my Android device?
Go into Settings > App > ParentMail > Notifications and enable "Block All". Please note, we would advise against doing this as you may miss important school information.
Permalink
Do I need to give consent for ParentMail to access my media files?
Some Android phones will require users to allow ParentMail access to media files, photos and videos. This is to ensure that attachments that are sent from school can be opened on the phone and without this permission you may be unable to open attachments. Please note, ParentMail will not access your personal files or access your data; this is simply in place so that attachments can be viewed on the App.
Permalink
What is 'Announcements'?
Announcements has replaced the Message of the Day! This is shown the first time you login or open the app, with a 'Do not show again' button.  It will then display when a new announcement is sent out from ParentMail, to you!
Permalink