Helping you to increase parent uptake with ParentMail
Feel the benefits of 100% parent uptake with ParentMail!
Just a few months ago, we released an update to your ParentMail dashboard which included lots of handy new information and functionality – but are you making the most of it?

We're here to help!
The more parents registered with ParentMail, the more your school will benefit from reduced admin time, print costs and more. It can seem like quite a daunting task to get all of your parents registered but we are here to help make the process easier.
Your ParentMail dashboard includes lots of handy information and functionality to help encourage parents to register so you can start feeling the benefits of improved parental engagement. If you haven't explored this area of your dashboard, read on to learn more!

Your Stats
The 'Your Stats' section of your dashboard shows a breakdown of your parent uptake with ParentMail, including how many families have a ParentMail account, how many families are using the ParentMail app and how many families are receiving email and SMS communications.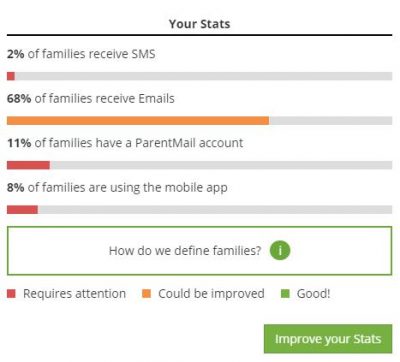 You should aim to see all green bars here – this would mean that you are highly engaged with your parents! But if not, don't worry, there's help available so you can identify and target unregistered parents; just click 'Improve your Stats' to get started!

Letters to parents
Although you may have already sent letters home to encourage parents to register with ParentMail, we all know what can happen to pupil post! It doesn't hurt to resend these letters if you are struggling with parent uptake – remember you can also use the content of the letters to send emails if you would prefer.
You can download letter templates from the 'Boost Registration' section of your dashboard. Simply select the letter and click 'Download Letter'.

Check your data
Did you know that the Rejected Records Report will list the information which has not been imported into your ParentMail account? For guidance on how to run this report, download the Rejected Records Guide.

Reports
There are three reports available to help with data maintenance and parent recruitment –
Parents with Missing Contact Information – This report shows all parents, which child they are linked to and whether or not you have a mobile number or email address for them – this report is particularly useful if you are looking to fill gaps in contact information!
Parent Connection Status Report – This report will show all parents and their account status. This can be used to identify a list of parents who would benefit from another registration invitation.
Paper Copy Families – This is as simple as it sounds! The report will show all students who will receive paper copy communications rather than emails, and the reason why.

Resend Verification Messages
This is a really easy way to resend verification messages, either by email or text, to prompt your parents to register.
Remember, the ParentMail School Help Site includes step-by-step guidance on the parent registration process which you can send to your parents for extra help.

Making the most of ParentMail
These tools are available to help increase the uptake of your parents with ParentMail. When your parents are registered with ParentMail, you can truly make the most of your applications and benefit from improved parental engagement!
If you are a school looking to improve parental engagement, get in touch to learn how ParentMail can help you. To find out more or to book a free demonstration of ParentMail, simply email info@parentmail.co.uk!