15 Creative Halloween Ideas For Kids
It's nearly Halloween which means it's time to get out the sweet bowls and dust off those old costumes. It's also the time of year that you can get creative with your kids. Whether you are planning a spooky themed party or just want to celebrate this autumnal holiday we've got some great ideas for you. From pumpkin painting to hand-made decorations, here are some fun creative Halloween ideas you can make with your kids. Time to get crafty!
1. Hand Decorated Masks
This one is a really simple and fun idea that you can do with your kids one afternoon. All you need is to head to your local arts and crafts store and grab some cheap materials. You buy a cheap blank masks from Hobbycraft from £1.20. Then you can get creative! Just use whatever your kids can get their hands on. Paint, felt tips, markers, glitter, whatever you like. Go mad or go for something more traditional. Either way, your kids are sure going to have a fun time with this one.
Woolly Spider

Another easy one. All you need is some black wool, a foam ball, a few pipe-cleaners and some googly eyes. Wrap the wool around the foam ball until is completely covered. Then attach the pipe-cleaners and googly eyes. And voila, you have your own little spider.
Illuminated Haunted House
This is definitely one to do with the kids. Grab some old cardboard, an old juice carton will do. You then want to cover it in black card. You then need to cut out the windows and doors (to be done by an adult of course!) and then decorate with your favourite colour card, glitter, paint…whatever you like. Once you're done don't forget to add a battery operated tea light to make it look extra spooky.
Pumpkin Painting
Do you want a fun activity involving pumpkins that doesn't involve sharp implements? Then, why not try pumpkin painting. Grab some acrylics and your paint brushes and get creative. This is a Halloween activity that the whole family can enjoy!
Pom-pom Spider, Ghost and Pumpkin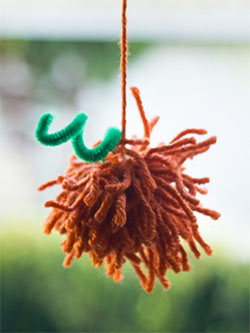 Make some adorable pom-pom decorations themed for Halloween. There is a great tutorial that you can follow for this one over on Live Craft Eat..
Yarn Pumpkin
Another simple one that can get a little messy but definitely lots of fun. Using a balloon and lots of yarn and glue you can make a very cool looking pumpkin decoration. .
Hand Print Bats
This one does what it says on the tin. Grab some black card, fold in half and trace around your hand or your kids hands or both for some different sizes. Then cut them out, unfold and see your spooky hand bats come to life. Stick them around the house to really get that Halloween atmosphere going. For a full tutorial check out the Reading Confetti blog.
Paint Swatch Crafts
wFor this one you're going to need to head to your local DIY store and pick up some different coloured paint swatches. Grab as many as you like in as many colours as you like and get the kids crafting. Make them into Frankenstein's Monster or a spooky witch. You can find some great inspiration by Liz On Call, or come up with your own and see what you can make
Paper Ghost Garland
This might be one more aimed at the parents and it mostly involves cutting. But the kids can certainly help with the decorating later. You want to find a long piece of white paper that you can accordion fold. Draw your ghost shape and then cut around it, making sure to not cut around the arms (see example from Skip To My Lou if you aren't certain). Once cut, unfold and then get the kids to draw on the faces of the ghosts. You could even add accessories as well if you were feeling extra creative.
Egg Carton Pumpkins (with secrets!)
You can follow the short tutorial from Reading Confetti for this one in order to make the pumpkins themselves. Cut up some egg cartons, paint them orange and draw on faces. Then, put whatever you like inside maybe a message or some nice treats.
Paper Craft Bats
This is an alternative to the hand print bats. Although it does require a few more materials, it also means having more fun. If you want to find out how to make them you can follow this really easy tutorial from 4crazykings.
Toilet Roll Tube Monsters
Something that is easy to get a hold of for crafting are toilet paper tubes. Instead of throwing them away, why not get the kids to make them into something spooky for Halloween. Turn these boring rolls into a witch or a ghost using whatever materials you can get your hands on. Card, paper, paint, glitter; whatever takes their fancy. The kids are sure to enjoy getting messy and making something they can be proud of.
Rice Krispies Pumpkins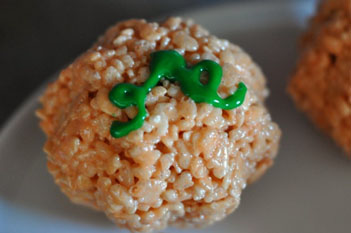 Easy to make and doesn't require an oven. This simple recipe from Food Family Finds will make some delicious rice krispie cakes that look just like pumpkins. Why not give it a try?
Halloween Themed Cookies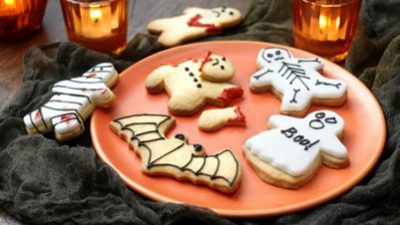 You could use whatever cookie recipe you like for this one but you'll also need to invest in some Halloween themed cookie cutters. The BBC Good Food website has a really great recipe with some fun ideas. But, as always, you can make them look however you like. Let the kids go crazy and see what spooky creations they can come up with.
Cotton Wool Ghost Wall Hanger
Make yourself a spooky companion or two using some cardboard, paint and a bunch of cotton wool balls. Draw and cut out a ghost shape in your cardboard. Paint on where you want to eyes and mouth to be with black paint. Then start sticking on your cotton wool balls. Make one or many and stick them up around the house for a quick and fun little project for the kids. You could go even further and paint the cotton wool balls to make some different spooky mascots. Go ahead and give it a try.
If you try any of these out be sure to share with us on Facebook! Have any other great Halloween themed crafts you'd like to share with us? Why not leave a comment below.