TeacherMail

TeacherMail helps improve pupil achievement in primary and secondary schools.
It makes it easy for teachers to record clear, real-time child-specific information on their progress, performance and behaviour.
This information can then be shared with parents, leadership teams and other teachers – providing essential data, statistics and feedback to help them all make better informed decisions about learning.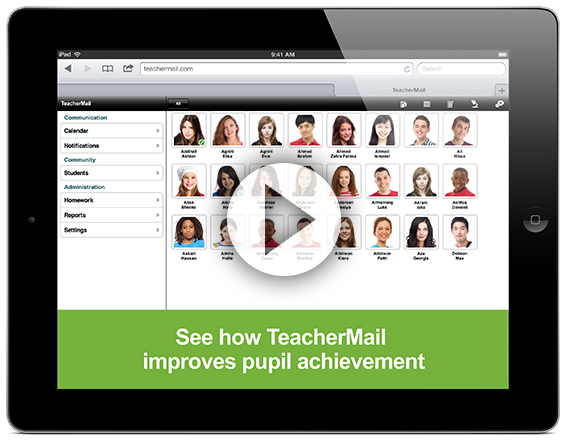 TeacherMail is a whole school strategy that:
Proactively involves parents in learning
Standardises and centralises school reporting
Eliminates the need for manual teaching records
Helps manage and improve behaviour
Provides evidence-based statistics and data to improve school performance
Delivering Real Parental engagement:
Parents can have a huge positive influence on their child's performance at school. TeacherMail, for the first time, enables teachers to communicate to parents direct from their classroom, in real-time.
This instant feedback on homework, classroom behaviour, successes and difficulties with subjects means parents can become involved and help their child at the earliest opportunity.
The effect is true parental engagement – and better results.
TeacherMail in Class:
The really special thing about TeacherMail is how it works. TeacherMail has been designed to be used in-class, in real-time. Importantly for teachers, it's fast to use – creating an entry for a pupil or groups of pupils takes just seven seconds.
TeacherMail can help your school:
Manage behavior:
Monitor and report patterns of behavior for individual pupils
Alert parents about low-level disruption as soon as it happens
Share successes and good work to help with positive reinforcement
Instantly communicate incidents to other staff members
Supporting learning:
Inform parents about homework and deadlines
Share test and exam dates with parents
Send links and documents to parents to supplement learning
Record real-time progress updates:
Record teaching notes against individual pupils
Record specific notes against groups or classes
Inform parents with lesson specific feedback
Assist formal reporting:
Access a history of notes for use in school reports
Comprehensive Reporting:
TeacherMail provides instant access to information and statistics on behavior and performance, down to individual pupil level.
A full suite of reports provides instant access to key data on teaching and teaching outcome.
Users can be set up with different permissions so they can view information and data that's specific to them. Heads of year and pastoral leaders for example, can be given access to information to help support mentoring and other discussions.
Restrictions can be set to limit what type of information can be sent to parents.
Implementing TeacherMail:
TeacherMail is a whole school strategy and can be customised to meet individual school needs.  We recommend initial onsite consultation and training to help with implementation so you get off to the best possible start.
Other Great Apps:

Homework Tracker

Email & Text
"Since we joined ParentMail all nursery managers across the group of fifteen have expressed how easy it was to set up and use."
Andrew Ross – Business Director at St Mark's C of E Academy